Here is an interview with yours truly in the Independent today, 11 the February, on unscrambling digital marketing for your business, and how DMX Dublin can help.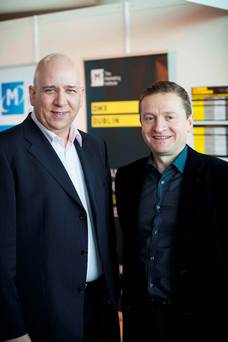 If there are any marketers out there who are still dazed and confused as to how digital marketing can grow their businesses and build their brands online, help is at hand.    DMX Dublin 2015, Ireland's largest digital marketing event, takes place on March 11 2015 at the Aviva Stadium and its aim is to offer marketers a practical guide on how to successfully manage their campaigns online.
Organised by the Marketing Institute and sponsored by Accenture, IBM and INM, the conference is aimed at a broad section of the media and marketing community in Ireland with senior marketers, entrepreneurs, and owner managers, as well as advertising agencies and digital specialists all expected to attend.
DMX Dublin will strive to debunk the myth and mystique surrounding digital media and to make the whole discipline of digital marketing more accessible to marketers. Attendees will learn how today's successful marketers, both national and international, are reaching customers using digital marketing techniques and by employing the full gamut of digital channels to create successful digital campaigns and to grow their brands online.
The objective of this year's DMX is to help marketers make more informed digital media and marketing decisions by enabling them to learn and apply the latest digital marketing practices, campaigns and strategies from the best brands in the world.
A strategic by-product of the conference is the networking opportunity that it will also facilitate. It's not often that marketers from different industry sectors get to meet in the same room so DMX will also provide a good opportunity for like-minded people to get together and exchange their details, stories and experiences.
A broad cross section of local and international business from multinationals to SMEs will feature at this year's conference with companies such IBM, Facebook, Twitter, Adobe, Taboola, Ebow, Edelman, Naked Wines, Hubspot, and Accenture all billed to present.  An impressive line-up of industry experts will share their insights at this year's conference and presentations will be divided into four 'streams' that will run concurrently across the day. Three of these will focus on the key digital marketing areas of customer acquisition, conversion  and engagement while the fourth stream will be dedicated to SMEs and how they can use digital marketing to develop their brands and businesses online. Delegates can pick and choose which presentations to attend according to what best suits their needs while a series of breakout workshops will bring attendees face to face with the experts.
The whole event promises to offer practical guidance for marketers, says DMX Dublin 2015 Content Programmer, Colin Lewis. "The imperative for presenters is to share successful stories," he says. "There will be no sales pitches. Attendees need to be able to take actionable points from each presentation that can be used as soon as they go back to the office.'"
The arrival of digital media has been a real game changer and, as a result, the importance of digital marketing simply can't be understated, says Lewis. A key concern for many marketers today is effectively managing the number of options that digital media offers, he says. "The digital world is continuously and exponentially expanding, the number of digital platforms is constantly on the rise, making it very difficult for marketers to keep up or to be confident that their digital marketing strategies are the best that they can be. Knowing whether or not your resources are correctly employed or that your digital strategy is the right one for your brand is a constant worry."
While the whole area of digital marketing can be difficult to reign in, the key is not to get too bogged down or too blinded by science, Lewis advises. "It's best to begin with the basics, he says, and to get to know what the tools and techniques that power digital marketing are and how they can work to build your brand."
So what are these bread and butter basics of digital marketing? Lewis outlines a few. "In order for anyone to take an interest in your company or your product online, they have to find it first, then they have to like it and then they have to engage with it. So in this scenario several things are important: search is important, design is important, the style and nature of your content is important, the user's experience is important, the user interface is important and understanding and interpreting your online analytics is important."
Lewis adds that mobile marketing in particular is becoming a vital platform that marketers will increasingly need to master going forward. It is on the cusp of becoming huge but currently marketers are lagging behind and this is simply because the consumer is moving to mobile so fast and at such a rate that that marketers can't keep up. "The platforms to support effective mobile campaigns aren't there yet in many cases but it's only a matter of time until they are and when they are the mobile explosion will begin in earnest," he says.
But despite having greatly expanded the number of media options and complicated the average marketers job, digital media has been good for marketing because it has brought with it accountability. Every click and tap made by a customer online can now be measured,
interpreted and evaluated. As a result, digital has changed marketing for the better and given it a more prominent position in the boardroom. This pleases Lewis. " Digital has allowed the recasting of marketing as revenue — and not merely as a cost — something that is music to my ears – because technology will mean we can better attribute marketing investments to business growth, and revenue."
But he warns that because digital media is evolving so rapidly, the role of marketing and of the marketer has no option but to evolve with it. "Marketing has become a technology powered discipline and therefore marketing organisations must bring technical capabilities into their DNA. We need a new type of marketing person – a hybrid marketing-technology professional,"  he says and adds that what is becoming increasingly important for marketers as a result is their ability to be able to learn and learn quickly.
"The faster things change the faster marketers will need to learn," he says.
Colin Lewis is the Program Director of DMX and Marketing Manager of BMI