The past few years has been an exciting time for online advertising seeing an explosion of different advertising channels – social media, search and numerous more coming to the forefront and developing online advertising to become one of the biggest media categories in Ireland.  The biggest push for online media came over the past few years during the recession, where client budgets saw a massive review and down grade of major media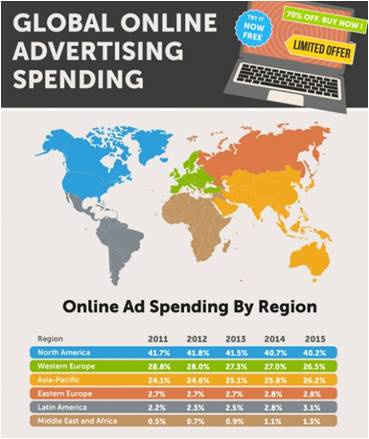 spending across TV and Press.  In amongst all this drop off in media spend from traditional channels, online advertising started to shine and proved its unique benefits, ensuring its place in the marketing planning process.  It is now a central part of any media strategy and sits, in its rightful place and long overdue, up beside the traditional powerhouse spenders  of TV and Press.  Whilst many clients have not yet allocated budgets on the scale of TV spends – the channel is growing as more and more formats are successfully tested and driving strong click through rates.
When we look at the overall online spend, The IAB PwC Online Report predicts online media spend will increase by 15% in 2013 (up 12.3% on 2012).  Paid search continues to dominate with 46% online display making a comeback at 39% with classifieds taking 15%.  Radio is a close runner to the third place online media spend and is proving to be one of the hardest working channels when combined with online advertising.   The biggest growth is seen in Mobile adspend predicted to reach €20.2m of which 56% is Search and 44% is Display with the FMCG's being the top spenders in this category.
There are an abundance of formats available for online advertising and for a full gallery of creative executions check out www.richmediagallery.com or http://www.bannerblog.com.au/