A comprehensive survey from the USA shows that companies with developed Shopper Marketing plans are growing 50% faster than any other categories they participate in and there is a similar trend across Europe.  This continues to highlight  the way in which the shopper's expectations are becoming more demanding in conjunction with the growth of digital.
Shopper marketing has grown significantly over the last 3 years with the FMCG's leading the way.  The major FMCG's, with their large databases of consumer insights, have leapt into this arena having segmented their target audiences, discovered and tested different promotional activities and delivered relevant and timely offers and content to their consumers.   While consumers behaviour is often on auto pilot when shopping in store, the FMCG's have are successfully creating new and dynamic influential channels.  They recognise that consumers are making many more decisions at the beginning of their path to purchase in store therefore it's ever more critical to intercept the them at this point,  at the beginning and create and guide them through the desired purchase journey.  Online is the start of many consumer's shopping journey today and more likely than not, starting with searching on a mobile device.
81% of shoppers research online before buying             (Source: Thornley Thomas)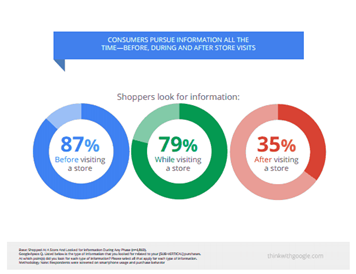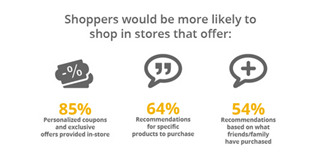 Retailers should regard this as the first of many key stages in tempting consumers through their door and do everything in their power to make the process as easy and simple as possible.  Yet, more often than not, retailers continue to ignore the importance of optimising their search keywords, company and product information – even basic searches for store details can end up a disappointing and confusing experience.  It is for this reason that retailers can expect their footfall to well and truly trip and fall and never return, with the added possibility of this negative brand experience being spread across social media. And while the retailers drag their heels when it comes to developing their online presence – the majority of searches end up sending consumers directly to online stores and not adding to the in store footfall. Retail stores need to create a easy and updated user experience where the most basic of details can be easily found. Ideally, they should aspire to go beyond this by e.g.  allowing shoppers to search to see if their goods are actually in stock.  Search engines are the easiest and quickest way that consumers look for products versus the time consuming route of visiting individual sites – so it essential to build a strong search strategy, inspire them to come visit the store and once they are there offer them as much personalised services as possible.