We're just a few days away from the next DMX Dublin conference on March 9. The anticipation is building — I can't wait.
As the Programmer of DMX Dublin and what is now the biggest digital marketing conference in Ireland, I can truly say that this will be the biggest and best DMX yet, and I want to give you a deeper preview of what to expect.
If you haven't got your tickets yet, better get to www.dmxdublin.com The event has sold out each year – and 2016 is no different.
So how will this be the biggest and the best DMX Dublin yet?
There are lots of wonderful speakers right across the five streams (yes, five streams for the first time) and great vendors in the exhibition hall. But it's the community of marketers and advertisers who are converging at this next DMX Dublin that, above all, will make this an incredibly special experience.
The five streams are named 'Innovation', 'Integration', 'Imagination', 'Inspiration' and 'Start-Up'.
We're expecting close to 800 attendees at the next DMX Dublin. All are mid-to-senior level marketing, advertising and digital executives participating from a wide range of industries.
Here is just a sample of some of the brands who will be in attendance:
AIB, Allianz Ireland, Alltech, Amadeus, Amarach Research, AMAS, Arnotts, Arthur Cox, Arup, Association of Advertisers, AXA, Bank of Ireland, Barnardos, Barry's Tea, Bewley's Coffee, Blarney Woolen Mills, Boots, Bord Bía, Bord Gais Energy, Bord na Mona, Brennans Bakeries, Brown Thomas, DAA, Danone, Datalex, Datalytics, Davy, Deloitte, Dentsu Aegis, Dundrum Town Centre, Eir, Electric Ireland, ESB, EY, Failte Ireland, Glanbia, GloHealth, Irish Film and Television Awards, HP, Horse Racing Ireland, Iarnrod Eireann, ICAN, IDA, Irish Cancer Society, Irish Greyhound Board, Irish International, Irish Life, Irish Water, JP Morgan, Just Eat, KBC, Kerry Foods, Kingspan, Laya Healthcare, Manpower Group, McCannBlue, MCCP, Microsoft, Mondelez, Nestlé Ireland, Newbridge Silverware, Newstalk, Nielsen, Nissan, Oracle, Owens DDB, Permanent TSB, Publicis, PwC, RaboDirect, Reckitt Benckiser, RTÉ, Sanofi Pasteur, Shop Direct, Stenaline, SuperValu, Target McConnells, AA, GAA, Irish Independent, Topaz Energy, Tourism Ireland, Trocaire, Unilever, Veolia Energy, Virgin Media, Vodafone, Volkswagen, Walt Disney Studios, Weber Shandwick, Zurich Insurance.
This is, by far, the biggest and best gathering of marketing and advertising professionals in Ireland — and the best opportunity to meet an incredible set of your peers. The conversations over coffee, over lunch or a drink, or just with the person sitting next to you can open new doors and new ideas.
New for 2016 – the 'StartUp Stream'
We are very keen to bring the vibrancy and innovation of the Start Up world directly to Irish marketers. So, I have created a brand new stream purely for Irish Martech & Adtech Start Ups. The CEOs of Popdeem; Tito; Birdleaf; Fandom; TVAdSync and Pulsate will be presenting directly to the creme de la creme of the Irish Marketing and Advertising world.
These bold, inventive start-ups are reimagining how technology can shape the future of marketing. It's a unique opportunity for DMX attendees to meet the coolest Start Ups that they might not have heard of, and get ideas on how cutting edge technology can help with marketing objectives. I guarantee that you will discover new companies offering capabilities that you may have never even imagined.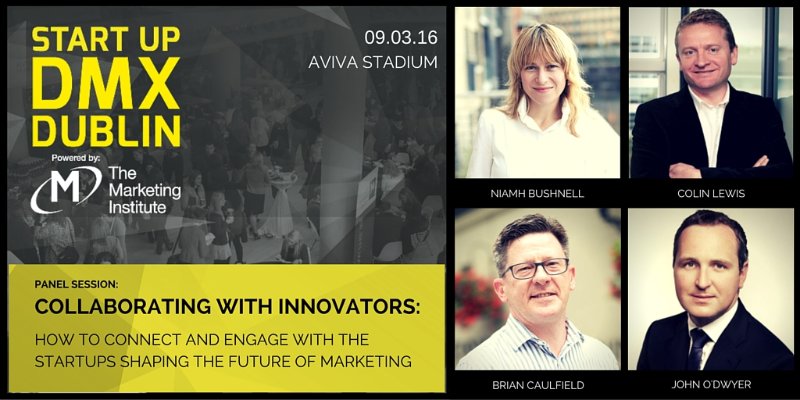 I'm also chairing a panel to kick off the 'Start Up Stream' with Niamh Bushnell, John O'Dwyer and Brian Caulfield. It is called 'Collaborating with Innovators: How to Connect and Engage with the Start Ups Shaping the Future of Marketing'.
Niamh Bushnell is Dublin's first Commissioner for Startups with responsibility for spearheading the development of the city as a global hub for innovative companies. Niamh is an angel investor at ERANYC.com, and CoFounder IDIRUS www.idirus.com and EIR Talent Tech Labs.
Brian Caulfield is a Partner at Draper Esprit, the leading European venture capital firm. Brian has co-founded numerous Irish tech firms, as well as being investor in Movidius, Datahug, RhodeCode, eCommerce firm, Clavis Technology, and is the current Chairman of the Irish Venture Capital Association.
John O'Dwyer is the Head of Technology, Media & Telecoms Banking at AIB. Prior to joining AIB, John worked in corporate finance managing M&A assignments and a trained Chartered Accountant.
The panel is going to discuss the importance of recognising the incredible innovations in martech and adtech being forged by these companies.
Here are the details on those taking part in the 'Start Up Stream':
The Five DMX Dublin Streams
Now, let's talk about the five streams: 'Innovation', 'Integration', 'Imagination' and 'Inspiration'. Here are just some of the topics and speakers:
A special mention must go out to Quantcast, who will educate us on the nuts and bolts of Programmatic Advertising, Gaming Expert, Sean Ahern on 'Gamification' and Tom Kinsella from AIB talking about 'Marketing in the Customer Age'. More controversially, Jerry Daykin from Carat is going to talk about the '10 Things I hate about Digital Marketing' and Phil Trippenbach from Edelman on the four trends that are changing the way communication works'.
Ireland's youngest CEO takes centre stage
Conor O'Flaherty is Ireland's youngest CEO and entrepreneur at just 17 years old. He has dropped out of secondary school just this year to create an international company called Pursue.TV, managing online influencers, dealing with clients and brands all over the world from his home in Galway.
Conor's company, Pursue, is an influencer management agency that works with video platforms such as YouTube delivering bespoke experiences and opportunities for influencers and brands alike. There have been over 30m (that's right 30 million views) on Pursue's multi-channel network in the last thirty days.
I have seen Conor speak. And I can say you will spend your time picking your jaw off the floor seeing how young, smart, confident and successful a 17 year old can be. Plus, he is a really nice guy!
But wait, there's more…the Keynotes during the plenary sessions.
There are two keynotes, one to open the event and once to close it, from Pete Blackshaw and Yuri Van Geest.
Pete Blackshaw, Global Head of Digital & Social Media at Nestle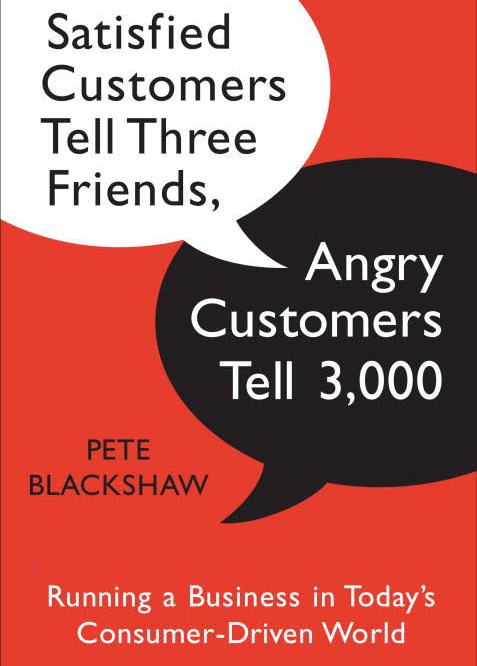 Pete is the Vice President of Digital and Social Media at Nestlé, S.A., based in Switzerland. In addition to helping shape digital strategy for Nescafe, Kit Kat, San Pellegrino, Perrier, Purina, and hundreds of other Nestle brands, Pete oversees Nestle's industry-recognised Digital Acceleration Team (DAT) as well as the Silicon Valley Innovation Outpost (SVIO).
He is author of a book by Doubleday entitled "Satisfied Customers Tell Three Friends, Angry Customers Tell 3000: Running a Business in Today's Consumer-Driven World," and periodically authors columns in Advertising Age centred on the book's themes. Pete founded PlanetFeedback.com, one of the web's first consumer-feedback portals, and co-founded the Word-of-Mouth Marketing Association. Pete is a graduate of Harvard and the University of California.
Yuri van Geest – Author of the bestselling and life changing book, 'Exponential Organisations'.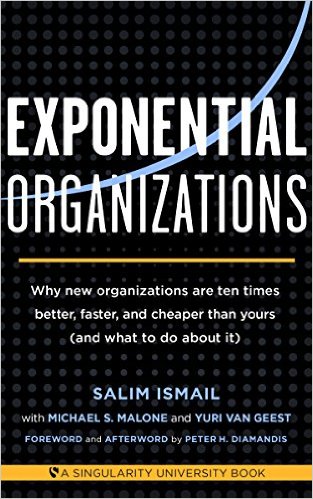 I'm particularly delighted to have Yuri speaking as he has co-written one of the most inspirational and insightful books you can imagine. I thoroughly recommend it to EVERYONE who is interested in seeing what really lies around the corner. This, to me, is the MUST attend session of the day. If this is the only thing you do today, then go to this session.
Yuri van Geest is an international keynote speaker, boardroom consultant for global top 1000 companies and co-author of the bestselling book Exponential Organizations. He has been the Dutch Ambassador of (SU) since 2011 and is the co-founder of SingularityU Netherlands. Yuri has 20 years of work experience in digitisation, innovation, technology, organization and strategy in corporates, agencies, startups and in the central Dutch government. He has been one of the early movers in the Lean Startup, Quantified Self, Mobile Monday and TEDx communities. His work has been featured in the Wall Street Journal, New York Times, Forbes and Techcrunch.
Whew. It's going to be a big day. I promise this will be the biggest and best DMX Dublin yet — I hope you join us!